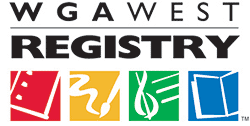 Welcome to WGAWRegistry.org, the official script and screenplay registration service of the Writers Guild of America, West and world's number one intellectual property service.
Since 1927, the Writers Guild of America, West Registry has been the industry standard in the creation of legal evidence for the protection of writers and their work. When you register your script prior to submitting it to agents, managers, or producers, you document your authorship on a given date should there be unauthorized usage.
The WGA, West is the home to nearly 12,000 of Hollywood's leading TV and screenwriters, but you do not need to be a WGAW member to use this vital Guild service. Registration can be used as a supplement to a U.S. copyright, and it's fast, easy and convenient to register online.
The WGA, West is proud to announce the our new Online Renewal service. You can now conveniently renew your expiring material online. Click on the Renewal button below to get started.
For more information, go to our details page or read our FAQ.